Gunpei Yokoi
Jump to navigation
Jump to search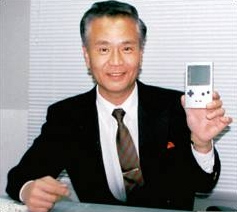 Gunpei Yokoi (横井 軍平 Yokoi Gunpei) was born on September 10, 1941 and grew up in Kyoto. After graduating from Doshisha University with a degree in electronics, he started work at Nintendo where he maintained assembly-line machines. He started designing toys in 1970 when Hiroshi Yamauchi, President of Nintendo at the time, saw him build an extendable arm, which Yokoi was ordered to make it into a proper product. He continued designing toys until 1974, when he became one of the company's first game designers after Nintendo decided to start making video games. After seeing a bored businessman playing with a calculator on a bullet train, he got the idea to create the Game & Watch, a long line of games on an LCD screen, which all came with an alarm clock. He was later assigned to supervise Donkey Kong, which was being created by Shigeru Miyamoto. After that game was successful, Yokoi worked with Miyamoto on Mario Bros., the next Mario game. When Nintendo Research & Development 1 was created, he was given the position of the head of the team. Here, he was the producer of Metroid and Kid Icarus. He also designed R.O.B. and his most famous creation, the Gameboy.
However, his reputation was tarnished with the commercial failure of the Virtual Boy. During all this he decided to retire on August 15th, 1996 after a 31 year career right after finishing the Gameboy Pocket. It is important to note that the Virtual Boy was not the reason for his resignation[1] as commonly believed by some Nintendo fans. On October 4, 1997, he was killed in a car crash on the Hokuriku Expressway. He is often regarded as one of the top names in the video game industry of all time.
He is often erroneously credited as the creator of Kid Icarus, but he was only the producer of the game, the actual creator was Toru Osawa.
References