Kid Icarus (series)
Jump to navigation
Jump to search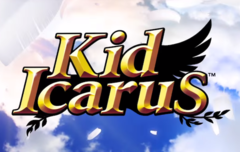 The Kid Icarus series, known as the Light Mythology: Mirror of Palutena (光神話 パルテナの鏡 Hikari Shinwa Parutena no Kagami) series or just simply Palutena (パルテナ Parutena) by Japanese fans, is a franchise of action games developed and published by Nintendo. The franchise stars a young angel warrior named Pit, and his adventures in a Greco-Roman mythology based world known as Angel Land.
Franchise History
The first game in the series was Kid Icarus, originally released in Japan in 1986, and in North America and Europe in 1987. Kid Icarus was released on the Nintendo Entertainment System. The second game in the series, a sequel to Kid Icarus, was Kid Icarus: Of Myths and Monsters. Of Myths and Monsters was released on the Game Boy in North America in 1991, and in Europe in 1992. Of Myths and Monsters never saw a Japanese release until 2012. For seventeen years, Pit, the main protagonist of the series, never had a playable role in a game. This changed with the third instalment of the Super Smash Bros. series, Super Smash Bros. Brawl, where Pit starred as a playable character, and Skyworld appeared as a stage. Four years later after Brawl, Kid Icarus: Uprising was released, marking the third instalment in the Kid Icarus series. Kid Icarus: Uprising was the first new Kid Icarus game to be released in twenty-one years.
Kid Icarus and Kid Icarus: Of Myths and Monsters also had many rereleases. Kid Icarus was rereleased in Japan as one of the Famicom's 20th anniversary titles on the Game Boy Advance, the Wii's Virtual Console in 2007, and was rereleased on the Nintendo 3DS as 3D Classics: Kid Icarus in early 2012. Of Myths and Monsters was also rereleased on the Nintendo 3DS Virtual Console in all regions including Japan for the very first time in 2012.
Kid Icarus Games
Remakes
Gallery
Other Games
Gallery
Trivia
Why exactly the series got its English name is unclear as it is vastly different from the Japanese title, and one of the tutorial videos from Uprising show Pit expressing confusion to why the game is named after Icarus.