Rocket Jump
Jump to navigation
Jump to search
This article is incomplete and is in need of attention.

Reason: Unlock requirements
Rocket Jump is a Power in Kid Icarus: Uprising. Rocket Jump can be used in both Solo Mode and Together Mode.
Effect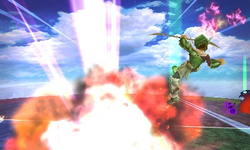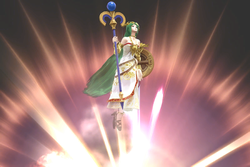 Rocket Jump is a variation of Sky Jump. When activated, Rocket Jump will launch the character into the air with an explosive blast. The blast will deal 32 points of damage to any enemy in a small radius around the character. When in the air, the player can still use their equipped weapon's ranged abilities, but any other selected Powers will not activate until they return to the ground. The distance the character can travel also depends on their speed, though the jump height never changes. The player cannot use melee attacks in the air.
Rocket Jump is also one of Palutena's selectable Up Special moves in Super Smash Bros. for Nintendo 3DS and Wii U. When used, Palutena creates a small explosion underneath her, which launches her into the air a short distance. The explosion deals 12% damage on the ground and 10% damage in the air, and is capable of meteor smashing characters below her. Palutena is immediately put into helpless once she reaches the peak of her jump.

Unlock requirements
Level 1:
Level 2:
Level 3: Obtained randomly.
Level 4: Obtained randomly.
Statistics
Icon
Type
Description
Level
Uses
Size
Shape
Movement
Launch yourself upward with the force of a rocket.
Lv. 1
2
4

□■□□□□
□■□□□□
■■□□□□
□□□□□□
□□□□□□
□□□□□□

Lv. 2
4
5

□■□□□□
□■□□□□
□■□□□□
■■□□□□
□□□□□□
□□□□□□

Lv. 3
6
6

■■■□□□
□□■□□□
□□■□□□
□□■□□□
□□□□□□
□□□□□□

Lv. 4
8
7

■■■■□□
■□□□□□
■□□□□□
■□□□□□
□□□□□□
□□□□□□