Toru Osawa
Jump to navigation
Jump to search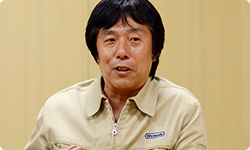 Toru Osawa is a Japanese game designer, an employee at Nintendo, and the creator of the Kid Icarus series[1]. He was a worker at the now-defunct Nintendo R&D1, and is now part of the restructured Nintendo SPD[2]. He started out as the only person working on the original Kid Icarus, until the completion of Metroid where Yoshio Sakamoto and the rest of his team helped develop to meet its December deadline. He has worked on a few other Nintendo games such as the Japan-only For the Frog the Bell Tolls, and the highly-acclaimed The Legend of Zelda: Ocarina of Time as the script director.
He was credited in Kid Icarus: Uprising as "Very Special Thanks".
Trivia
Despite being the creator of Kid Icarus, he appears to have gone uncredited as shown by the game credits.
When Super Smash Bros. Brawl was revealed at E3 2006, Masahiro Sakurai mentioned that the creator of Kid Icarus jokingly asked if he could make a spin-off using the new Pit model.[3] Although Osawa's name was not outright stated, Sakurai was most likely talking about him.
References