Jump Glide
Jump to navigation
Jump to search
This article is incomplete and is in need of attention.

Reason: Level 1, 3, and 4 unlock requirements
This article is in need of additional images.
You can help Icaruspedia by adding an image to it.

Jump Glide is a Power in Kid Icarus: Uprising. Jump Glide can be used in both Solo Mode and Together Mode.
Effect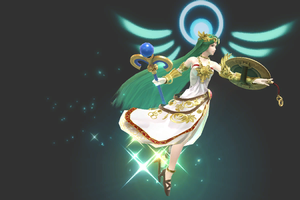 Jump Glide acts as an improved Sky Jump. Like with Sky Jump, Jump Glide will send the player character into the air, where they then glide for a short time, being able to adjust their decent as well. When in the air, the player can still use their equipped weapon's ranged abilities, but any other selected movement or casting animation Powers will not activate until they return to the ground. The distance the character can travel also depends on their speed when they activated the Power, though the jump height never changes. The player cannot use any attacks other than standing attacks in the air.
Jump Glide is also one of Palutena's selectable Up Special moves in Super Smash Bros. for Nintendo 3DS and Wii U. When used, Palutena will jump into the air and will be able to glide around for a short time. The jump height is a small hop when used on the ground, but is a high leap when used in the air. The effect does not last long, and Palutena will enter a helpless state and fall if she is still in the air when the Power runs out, attacks, or if the player presses down.
Unlock requirements
Level 1:
Level 2: Play Nearby in Together Mode 10 times.
Level 3:
Level 4:
Statistics
Icon
Type
Description
Level
Uses
Size
Shape
Movement
Jump high into the air, then perform a glide.
Lv. 1
2
4

□■□□□□
■■■□□□
□□□□□□
□□□□□□
□□□□□□
□□□□□□

Lv. 2
4
5

■■■□□□
■□■□□□
□□□□□□
□□□□□□
□□□□□□
□□□□□□

Lv. 3
6
6

■■■■□□
■□□■□□
□□□□□□
□□□□□□
□□□□□□
□□□□□□

Lv. 4
8
7

■□□□■□
■■■■■□
□□□□□□
□□□□□□
□□□□□□
□□□□□□