Lightweight
Jump to navigation
Jump to search
This article is incomplete and is in need of attention.

Reason: Level 2, 3, and 4 unlock requirements.
This article is in need of additional images.
You can help Icaruspedia by adding an image to it.

Lightweight is a Power in Kid Icarus: Uprising. Tirelessness can be used in Solo mode and Together mode.
Effect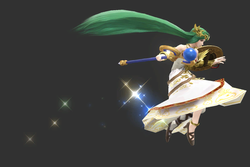 When activated, the Power will increase the user's running speed and remove the limit on their Stamina. However, the character's defense will decrease. Lightweight lasts for about twenty seconds. Despite its information, the character can get tired if they run during the length of Lightweight's use in its entirety, getting tired about two seconds before the Power ends.
Lightweight is used as one of Palutena's Down Special moves in Super Smash Bros. for Nintendo 3DS and Wii U. The move makes Palutena faster and able to jump higher, but also reduces her weight, making her easier to launch. When the Power ends, Palutena will move at half her standard speed both in the air and on the ground for five seconds, and another five seconds must pass before she can use the move again.
Unlock requirements
Level 1: Chapter 2: Clear this chapter within 13 minutes.
Level 2:
Level 3:
Level 4:
Statistics
Icon
Type
Description
Level
Uses
Size
Shape
Buff
Increase movement speed and prevent tiring out
in exchange for taking more damage when hit.
Lv. 1
2
7

□■□□□□
■■■□□□
■■■□□□
□□□□□□
□□□□□□
□□□□□□

Lv. 2
2
8

■■□□□□
■■□□□□
■■□□□□
■■□□□□
□□□□□□
□□□□□□

Lv. 3
2
9

■■■□□□
■■■□□□
■■■□□□
□□□□□□
□□□□□□
□□□□□□

Lv. 4
2
10

■■□□□□
■■■■□□
■■■■□□
□□□□□□
□□□□□□
□□□□□□