Reflect Barrier
Jump to navigation
Jump to search
This article is incomplete and is in need of attention.

Reason: Level 1, 3, and 4 unlock requirements.
Reflect Barrier is a Power in Kid Icarus: Uprising. Reflect Barrier can be used in Solo mode and Together mode.
Effect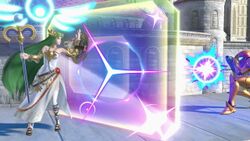 When activated, the player character will place a large reflective barrier in front of them. The barrier will reflect enemy projectiles back at them. Enemies who contact the barrier itself will take 1 point of damage. While it does not stop physical attacks, it does act as a sort of wall, making it difficult for enemies to move through. Enemies can stand on top of the barrier, however.
In Super Smash Bros. for Nintendo 3DS and Wii U, Reflect Barrier is Palutena's default Side Special move. When activated, the Reflect Barrier moves away from Palutena a few inches, pushing back and slightly damaging opponents nearby, and will reflect any projectile attacks while it is up. In Super Smash Bros. Ultimate, the Reflect Barrier is joined with Palutena's Down Special move, Counter. While the Reflect Barrier can no longer be called up at command, it will appear if Palutena is attacked with a projectile while the Counter is active and will behave similarly to the previous installment, though can no longer damage opponents.

Unlock requirements
Level 1:
Level 2: Use powers 50 times.
Level 3:
Level 4:
Statistics
Icon
Type
Description
Level
Uses
Size
Shape
Attack
Create a barrier that reflects shots.
Lv. 1
1
6

■■□□□□
■■□□□□
■■□□□□
□□□□□□
□□□□□□
□□□□□□

Lv. 2
2
8

■■□□□□
■■□□□□
■■□□□□
■■□□□□
□□□□□□
□□□□□□

Lv. 3
3
10

■■□□□□
■■□□□□
■■□□□□
■■□□□□
■■□□□□
□□□□□□

Lv. 4
4
12

■■□□□□
■■□□□□
■■□□□□
■■□□□□
■■□□□□
■■□□□□