Powers
Jump to navigation
Jump to search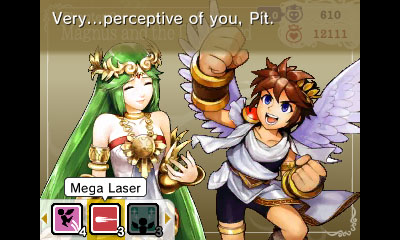 Powers are mechanics in Kid Icarus: Uprising. They are abilities created by Palutena that grant Pit special effects or perform even more powerful attacks during Land Battles. They show up on the lower left corner of the touch screen on the Nintendo 3DS. They can be activated by either touching the power icons, or using the D-Pad (default controls). Players can have a limited number of different powers at a time, but most can be used more than once. Before battle, players can make their own various sets of powers using the power pieces on a grid, or allow Palutena to randomly fill them up. Rarer and higher level powers take up more space on the grid. Powers can also be utilized in Together Mode, and a few are exclusive to that mode. Powers can be found inside Treasure Boxes or as rewards after a match in Together Mode. Some powers must be be unlocked by satisfying objectives on Treasure Hunt.
If the player obtains all powers in the game, an illustration of Pit and Medusa will be revealed.
List of Powers
Movement
Attack
Enhance
Debuff
Buff
Maneuvers
Recovery
Item
Miscellaneous
Trivia

There is an icon of a locked power in Kid Icarus: Uprising's files, but it cannot be seen in game.