Celestial Firework
Jump to navigation
Jump to search
This article is in need of additional images.
You can help Icaruspedia by adding an image to it.

Celestial Firework is a Power in Kid Icarus: Uprising. Celestial Firework can be used in both Solo mode and Together mode.
Effect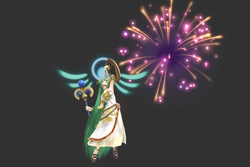 When activated, the Power will launch a firework 13.4 meters away from the user. While Celestial Firework is meant to be more of a fun gimmick than a useful Power, it does deal 10 points of damage to enemies in range.
Celestial Firework is also used as one of Palutena's Down Special moves in Super Smash Bros. for Nintendo 3DS/Wii U. When used, a firework will be launched at Palutena's feet, carrying an opponent into the air and then launching them. The attack does not do a lot of damage, but does make Palutena invincible for a short time.
Unlock requirements
Level 1: Perform an Idol toss.
Level 2: Obtained randomly.
Statistics
Icon
Type
Description
Level
Uses
Size
Shape
Miscellaneous
Celebrate Lady Palutena by launching a
firework into the air.
Lv. 1
5
4

■■□□□□
□■■□□□
□□□□□□
□□□□□□
□□□□□□
□□□□□□

Lv. 2
10
7

■■□□□□
■■■□□□
□■■□□□
□□□□□□
□□□□□□
□□□□□□

Lv. 3
No Level 3 variant
Lv. 4
No Level 4 variant