Virus
Jump to navigation
Jump to search
This article is a stub.
You can help Icaruspedia by expanding it.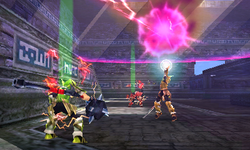 Virus is a Power in Kid Icarus: Uprising. Virus can only be used in Together mode.
Effect
When activated, the user will call up a purple orb of energy. Any opponents near the orb will be simultaneously weakened and paralyzed, having their max health cut by half and their movements restricted.
Unlock requirements
Level 1:
Level 2:
Level 3:
Statistics
Icon
Type
Description
Level
Uses
Size
Shape
Debuff
Unknown
Lv. 1
Unknown
Unknown

□□□□□□
□□□□□□
□□□□□□
□□□□□□
□□□□□□
□□□□□□

Lv. 2
Unknown
Unknown

□□□□□□
□□□□□□
□□□□□□
□□□□□□
□□□□□□
□□□□□□

Lv. 3
3
12

■■□□□□
■■□□□□
■■□□□□
■■□□□□
■■□□□□
■■□□□□

Lv. 4
No Level 4 variant