Darkness
Jump to navigation
Jump to search
This article is incomplete and is in need of attention.

Reason: Levels 3 and 4 information.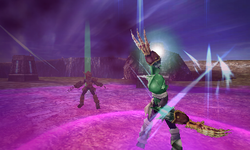 Darkness is a Power in Kid Icarus: Uprising. Darkness can only be used in Together mode.
Effect
When activated, the Power will create a dark mist around the user. Any opponent in the mist will have their screen turn completely black, blinding them for about four seconds.
Unlock requirements
Statistics
Icon
Type
Description
Level
Uses
Size
Shape
Debuff
Turn foes blind. (Together mode only.)
Lv. 1
2
5

□■□□□□
□■□□□□
□■□□□□
■■□□□□
□□□□□□
□□□□□□

Lv. 2
3
6

■■■■□□
■□□■□□
□□□□□□
□□□□□□
□□□□□□
□□□□□□

Lv. 3
Unknown
Unknown

□□□□□□
□□□□□□
□□□□□□
□□□□□□
□□□□□□
□□□□□□

Lv. 4
Unknown
Unknown

□□□□□□
□□□□□□
□□□□□□
□□□□□□
□□□□□□
□□□□□□