Tempura Bomb
Jump to navigation
Jump to search
Tempura Bomb
| | | |
| --- | --- | --- |
| First Appearance: | | Kid Icarus: Uprising (2012) |
| Latest Appearance: | | Kid Icarus: Uprising (2012) |
| Item Type: | | Explosive, Transformation |
| Usage: | | Single Use |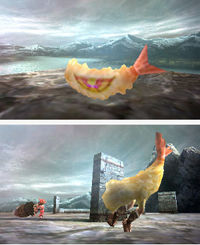 A Tempura Bomb is an item first introduced in Kid Icarus Uprising. Tempura is a Japanese dish that can include battered or fried seafood and vegetables.
Solo Mode
The Tempura Bomb is only found in Solo Mode when thrown by a Tempura Wizard. If the bomb hits Pit, he will temporarily transform into a helpless Tempura shrimp. Similar to an Eggplant Bomb, Pit must avoid the Tempura Wizard until the effect wears off. However, the Tempura Wizard will chase Pit and will eat him if he is caught.
Together Mode
The Tempura Bomb can be found in Together Mode as a usable item. It serves the same purpose as in Solo Mode: it turns all opponents caught in the blast into Tempura shrimp temporarily, making them easy to attack. However, Fighters don't have to worry about being caught by a Tempura Wizard.
Idol Description
"What's the worst thing about being turned into fried shrimp? Getting eaten? The embarrassment? Not being able to attack your foes? If it's the last one, watch out for the Tempura Bomb, because that's exactly what it does!"