Lightning Chariot
Jump to navigation
Jump to search
Lightning Chariot
| | | |
| --- | --- | --- |
| Type: | | Vehicle |
| Specializes In: | | Speed, Ranged Combat |
| Strengths: | | High speed; fire power boosted due to speed |
| Weaknesses: | | Overall poor control due to its high speed; limited fire to straight in front of it; no airbags |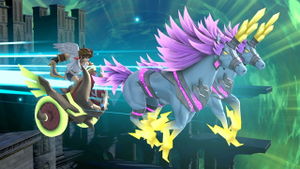 This article is about the vehicle. For the chapter in Kid Icarus: Uprising, see The Lightning Chariot (chapter).
The Lightning Chariot is a critical item to the storyline of Kid Icarus: Uprising. It is needed by Pit and Viridi to pierce the force field around Palutena's Temple so that they can rescue her from the Chaos Kin. The chariot however, is guarded by the Chariot Master in Chapter 19: The Lightning Chariot, and in order to obtain it, Pit must climb up his tower and defeat him. The chariot is drawn by two unicorns, Phos and Lux, and is entrusted to Pit after the Chariot Master's defeat. Once it has fulfilled its use at Palutena's Temple, Phosphora says that she will look after it. Dark Pit uses it later in the storyline to break open the entrance to the Chaos Vortex, and again in Chapter 23 to rescue Pit after the battle with Hades's Heart, and it is extracted to Skyworld along with the two angels.
Despite Pit earning the chariot and the Chariot Master specifically entrusting his steeds to the angel, it eventually fell under Viridi's command, presumably alongside Dark Pit.
The Lightning Chariot also appears as Pit's Final Smash in Super Smash Bros. Ultimate, working similar to Dragoon.
Characteristics
The chariot is mainly bright red in color, decorated with numerous gold ornaments. The unicorns themselves are a bluish-white with pink-colored manes and tails. They also have horns made of yellow quartz-like crystals, and their hooves resemble lightning bolts.
Idol Description
One of the Chariot Master's most prized possessions, the Lightning Chariot blazes through the heavens at the slightest pull of the its unicorns' reins. Its extreme speed is matched only by the destructive shots fired from the unicorns horns.
Trivia
The two unicorns, Phos and Lux, both translate to "light" in Greek and Latin respectively.