X Bomb
Jump to navigation
Jump to search

The X Bomb is an item introduced in Kid Icarus: Uprising. It explodes shortly after being thrown, releasing four large quick and strong projectiles that spread out in an X-shaped fashion, hence the name. The projectiles can pierce through multiple enemies and even change directions if it hits a wall, making the X Bomb excellent in narrow areas. The directions of which the X Bomb explodes depends on the direction it's facing once it hits the ground.

Idol Description
X Bombs explode shortly after being thrown, ripping through multiple enemies for massive damage with their cross-shaped blast. The orientation of the explosion depends on the direction faced when the bomb is thrown.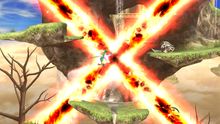 The X Bomb appears as an item in both versions of the game. It releases an explosion in the shape of a cross. While the item originates from Kid Icarus: Uprising, its explosion is actually based on the X Bomb item that appears in Meteos.
Trophy Description
This bomb will explode shortly after it leaves your hand, expanding outward in an X-shaped blast that tears through anything in its path. Its incredible power can be a lot of fun, but don't get crazy. Blowing up everything is no way to get ahead in life!