Brawny Claws
Jump to navigation
Jump to search
Brawny Claws
ガニラス
Ganirasu
Brawny Claws (ガニラス Ganirasu) is a new aquatic enemy introduced in Kid Icarus: Uprising. It is a strange, crab-like monster that lacks eyes and is capable of levitation. It's spiky arms and torso are deceptively long and can stretch out extremely far, acting as dangerous aerial obstacles. This creature can apparently rotate whilst in the air, and possibly even grab objects with its large claws.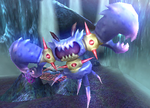 Brawny Claws is a rare enemy found only during aerial battles. It is first encountered in The Seafloor Palace, where multiple attack after the ocean is parted. Beyond this appearance, Brawny Claws are only battled a few more times during later chapters.
Idol Description
An Underworld crustacean that blocks Pit's progress by extending its arms and legs. Its pincers stretch out to the side but can't extend up or forward. Still, for a lazy little Brawny Claws, this technique comes in quite handy.