Syren
Jump to navigation
Jump to search
Syrens (セイレン Seiren) are harpy-like enemies in the Kid Icarus series.
Appearances
Syrens appear as enemies exclusive to the final level in the Palace in the Sky. They fly in from the right, in groups of two to four, and following a slight wave-like attack pattern.
Manual Description
The wicked creature of legend. If Pit is caught unaware by her beautiful female form she'll attack Pit with the steely claws on her feet.

| | | | |
| --- | --- | --- | --- |
| Hit Points | Damage | Hearts | Score (Experience) |
| 2 | 3 | 5 | 300 |
---
Syrens return to this installment of the series, and they now have a much more colorful appearance and can attack Pit with whirlwind projectiles that can home in on his position. They are very common enemies, appearing in numerous chapters of the story. Oddly, Syrens also have been seen carrying other enemies on their backs, most notably during Magnus and the Dark Lord.
Idol Description
Long though the stuff of myths, Syrens are creatures that seem to combine the bodies of women with the limbs of birds. Their ability to fly and shoot whirlwinds from their open mouths sets them apart from all monsters and most gamers.
Gallery
Trivia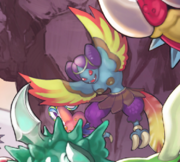 Although this monster borrows the name of the Sirens from Greek mythology, its depiction is closer to one of a Harpy.
In one of the exceedingly rare cases of Nintendo nudity, the Syren is naked in the original Kid Icarus manual. This trait is remedied in Uprising, as the Syren now wears a breastplate.

However, one of the illustrations for Uprising depict a Syren with a design that appears to make it nude, which may have been the original planned design before it was altered for obvious reasons.