Shootfly
Jump to navigation
Jump to search
The Shootfly (シャッタン Shattan) is a new enemy introduced in Kid Icarus: Uprising. It is a bat-like Underworld monster that appears to rely on sound to locate its targets.
Characteristics
Shootflies are very unique creatures that thrive in cavernous locations and spend most of their time sleeping in mid air. They have three eyes that glow blue when they are asleep, but will shine bright red if awakened. Like regular bats, Shootflies are usually encountered in groups and can prove to be quite challenging when many are attacking at once. Unlike other Underworld monsters, they have a major weakness in that they must rely solely on their wing-like ears to detect noise made by their opponents, and even then the creatures will only ever awaken to loud sounds, such as those made by firing a weapon. Because of this, Shootflies can potentially be completely avoided if Pit refrains from using projectile attacks in their vicinity. However, such evasive measures could potentially be impossible if other enemies are in the area, making these monsters a force to be feared.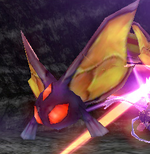 Shootflies are uncommon enemies found during both land and air battles. They are first found during the air and land battles of Chapter 9: Medusa's Final Battle.
Idol Description
Underworld enemies that function like homing mines. When shots pass them, they locate and then swarm their target. However, they can be passed quietly and only react to ranged shots, so melee attacks are the way to go.