Armin
Jump to navigation
Jump to search
The Armin (アーモス Āmosu) is a new enemy introduced in Kid Icarus: Uprising. This large, greenish beast resembles a dinosaur that appears to have plant-like qualities, as well as two horns and spiky armor covering its head and face. This armor serves as its primary weapon, as the creature will not hesitate to charge at full speed towards Pit in an attempt to ram him. However, if the Armin misses its target, it will keep charging until it hits a wall, causing it to fall down. This will in turn leaves the monster's soft body vulnerable to a counterattack. However, it can still be attacked from the sides while standing up if Pit uses a side dash or fires at it.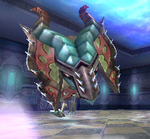 Armins are a semi-common enemy found only in land battles, first appearing in Pandora's Labyrinth of Deceit.
Idol Description
At first, Armin appears to be quite the invulnerable beast, protected in front and back by heavy plates. However, from the side its true puny body is exposed, exposing this Underworld monster for the weakling it really is.